Press Release: Rick Burke named 2024 H. Peter Burg Award recipient by Red Cross of Greater Akron and the Mahoning Valley
Press Release
October 19, 2023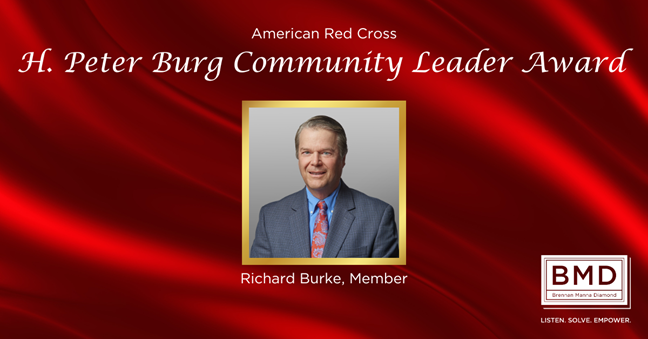 Award to be presented at the Red Cross Acts of Courage event March 7, 2024
AKRON (October 19, 2023) — Community leader Rick Burke has been named the recipient of the 2024 H. Peter Burg Community Leadership Award. Rick was selected by a committee of past award winners and will receive the honor during the Annual Acts of Courage event on March 7, 2024.
The American Red Cross of Greater Akron and the Mahoning Valley proudly presents the H. Peter Burg Award each year to one or more individuals who best exemplify leadership in the community, compassion for its people and dedication to the humanitarian mission of the Red Cross.
Rick is receiving the H. Peter Burg Community Leadership Award for his leadership at Brennan, Manna & Diamond, LLC, as well as in the community. He has served countless organizations such as Akron Children's Hospital, the Akron Rotary Club, and the University of Akron Foundation Gifts & Estate Planning Committee. Rick has also served as a Board member and Board Chair for Big Brothers/Big Sisters of Akron, Mobile Meals, Access, Inc., Greenleaf Family Services, the American Red Cross of Akron and the Greater Mahoning Valley, Northern Ohio Golf Charities, the Northern Ohio Golf Charities Foundation, and Stan Hywet Hall & Gardens. In addition, Rick has accumulated 40 years of service as a volunteer at Firestone Country Club on behalf of Northern Ohio Golf Charities and was Tournament Chair of the 1996 NEC Invitational-World Golf Championship (now known as the Kaulig Companies Championship). Rick was a member of Leadership Akron Class IX and has been a recipient of the (Summa) Charles Deering Legacy Advisor Leadership Award 2017 as well as the University of Akron School of Law 2018 Outstanding Alumni Award. Rick can be contacted at rwburke@bmdllc.com or 330.374.5255.
About H. Peter Burg
While CEO of FirstEnergy and chair of the local Red Cross board of directors, H. Peter Burg established a legacy of dedicated service to the Greater Akron community.
Following his death in 2004, the American Red Cross established the award in Burg's name to honor his memory and inspire others. By bestowing the award on Rick, the Red Cross recognizes his effective and dedicated community service.
Rick will join an esteemed list of community leaders who received the award. The list includes:
Joe Kanfer and Pam Kanfer of Blessed Memory (2023)
Bernett Williams (2022)
Nick and Cindy Browning (2021)
Steve Hendricks (2020)
Virginia Addicot (2019)
Brian J. Moore (2018)
Kevin O. Thompson (2017)
Leonard Foster (2016)
William "Bill" J. Ginter (2015)
Pam Williams (2014)
Dave Lieberth (2013)
Mark and Sandy Auburn (2012)
Dave Brockman (2011)
Theresa Carter (2010)
Donna Early (2009)
Roger and Judy Read (2008)
Bud and Susie Rogers (2007)
Bill and Becky Considine (2006)
Duane Isham (2005)
If your company or organization is interested in sponsoring the 2024 H. Peter Burg and Acts of Courage Awards event, please contact Rachel D'Attoma at 330-535-6131.
To nominate individuals for heroic acts of courage, visit redcross.org/nohheroes. The deadline to submit nominations is Dec. 31, 2023.
About the American Red Cross:
The American Red Cross shelters, feeds and provides emotional support to victims of disasters; supplies about 40 percent of the nation's blood; teaches skills that save lives; provides international humanitarian aid; and supports military members and their families. The Red Cross is a not-for-profit organization that depends on volunteers and the generosity of the American public to perform its mission. For more information, please visit redcross.org or cruzrojaamericana.org, or visit them on Twitter at @RedCross.
About the American Red Cross of Northern Ohio:
The Northern Ohio Region of the American Red Cross serves 31 counties and their 5.3 million residents by preventing, preparing for and responding to emergencies 24 hours per day, seven days a week. Subscribe to their blog at nohredcross.org, find them at Facebook.com/NOHRedCross, at LinkedIn.com/in/nohredcross, and @RedCrossNOH on Twitter.
---