Sweeping Changes Proposed for Federal Title IX Legislation
Client Alert
June 24, 2022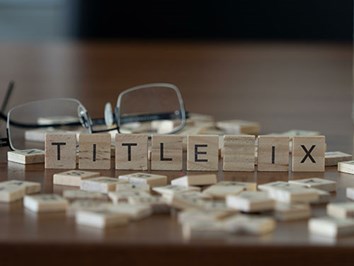 June 23, 2022, marked the 50th anniversary of Title IX — the federal civil rights legislation enacted to protect students from sex-based discrimination in educational programs and activities that receive federal financial assistance. The anniversary was further marked by an announcement from the Biden administration of its intent to overhaul the landmark law, in part, by reinstating certain provisions removed, or otherwise modified, by the former administration.
In conjunction with the Department of Education, President Biden announced the proposed amendments to Title IX would have the impact of advancing "educational equity and opportunity"[1] for students across the country including, without limitation, those in the LGBTQIA+ community.  Specifically, the revised regulations are anticipated to clarify Title IX's text to extend protections to students on the basis of sexual orientation, gender identity, and sex characteristics and, moreover, extend protection to both students and employees who are pregnant and/or have pregnancy-related condition(s).
The proposed amendments would also require schools to respond promptly to all complaints of sex discrimination with a fair and reliable process that includes trained, unbiased Title IX coordinators, investigators, and decisionmakers to evaluate the evidence. Notably, the proposals would effectively remove the requirement that schools wait for a formal complaint prior to acting — thereby allowing schools to investigate and sanction sexual misconduct complaints more promptly. The proposals also allow informal resolution of an incident without the submission of a formal complaint (a formal complaint is a prerequisite under the current regulations).
Moreover, following investigation, decisionmakers may soon be subject to a revised, heightened threshold for standard of proof based on the evidence — the clear and convincing evidence standard, meaning that the evidence presented must be "highly" and substantially more probable to be true rather than untrue — depending on what standard the school uses in other comparable proceedings.
In addition to the above, the proposed regulations are generally intended to strengthen protections from retaliation for those who exercise Title IX rights, require schools to engage in and/or offer supportive measures to parties involved in Title IX actions, and improve the adaptability of the Title IX framework to be applied fully and fairly in all educational environments.
The proposed regulations also revert the definition of sexual harassment back to "unwelcome sex-based conduct that creates a hostile environment by denying or limiting a person's ability to participate in a school's education program or activity. This would impose significant changes to the current rule, which only prohibits unwelcome sex-based misconduct if it is "so severe, pervasive, and objectively offensive that it effectively denies a person equal access to the recipient's education program or activity."
Practically speaking, the proposed regulations no longer require live hearings for Title IX investigations. This is a significant change from the August 2020 regulations, which directed higher education institutions to conduct live hearings with cross-examination following the investigation. Under the August 2020 regulations, a decisionmaker was prohibited from considering any statements of parties or witnesses that were not subject to cross-examination, and therefore not tested for credibility. Ultimately, the proposed regulations, by way of eliminating the live hearing requirement, could allow decisionmakers to consider more comprehensive evidence.
To the extent a live hearing is held, the proposed regulations also require higher education institutions to allow students who participate in the live hearing to do so remotely, if they so choose.
The proposed amendments will undergo a period of public comment for the next 60 days. The Education Department will then address each point in writing before the regulations can be finalized.
[1] See U.S. Department of Justice Press Release, "The U.S. Department of Education Releases Proposed Changes to Title IX Regulations, Invites Public Comment," published June 23, 2022.
For additional information about the revised regulations, or how they may impact your institution, please reach out to one of Brennan, Manna & Diamond's trained Title IX investigators and advisors, Monica Andress at mbandress@bmdllc.com, Krista Warren at kdwarren@bmdllc.com, Bryan Meek at bmeek@bmdllc.com, or Matt Duncan at mrduncan@bmdllc.com.
---