Construction and Real Estate Collaborative Conference - March, 29, 2019
Doubletree, Independence Ohio Mar 29, 2019 7:30AM-1:00PM
CONSTRUCTION +  REAL ESTATE COLLABORATIVE CONFERENCE
---
Friday, March 29, 2019
Presented by: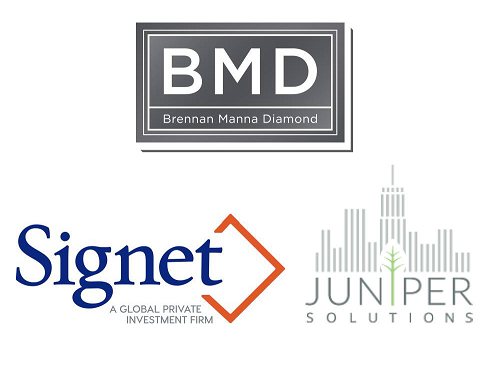 JOIN US FOR AN EXCLUSIVE INTERACTIVE EVENT TO DISCUSS CURRENT TRENDS AND INNOVATION IN REAL ESTATE DEVELOPMENT AND CONSTRUCTION PROJECTS
The law firm of Brennan, Manna, and Diamond ("BMD"), the Signet Real Estate Group ("Signet"), and the economic development advisors at Juniper Solutions, LLC ("Juniper") invite you to attend their first annual Real Estate and Construction Collaborative Conference at the Doubletree Hotel in Independence, Ohio on Friday, March 29, 2019.
This Conference offers a unique opportunity to participate in an engaging discussion regarding the recent trends in project development. Topics will include:
initial planning and site selection, 
key aspects of contract negotiation, and 
communication strategies now being utilized to bring projects in on time and under budget. 
Join the conversation and share your own insights with experts like BMD President Jack Diamond and Signet Chairman Tony Manna as they discuss their own experiences and strategies for successful projects. The conversations will continue during an exclusive networking reception where you can strategize on your next project with fellow conference attendees representing all facets of the real and estate and construction industry.
This is a one of a kind opportunity which is not to be missed. We hope you can join us!
Register Here
Contact for any attendee questions:  
Email Lorraine Signore at lmsignore@bmdllc.com or call (330) 253.3766.
NO REGISTRATION FEE
---
DATE + TIME:
Friday, March 29, 2019
7:30am - 1:00pm
LOCATION:
Doubletree Hilton
6022 Quarry Lane
Independence, OH 44131
---