Real Estate Investors Position for 2023 Opportunities
Client Alert
December 19, 2022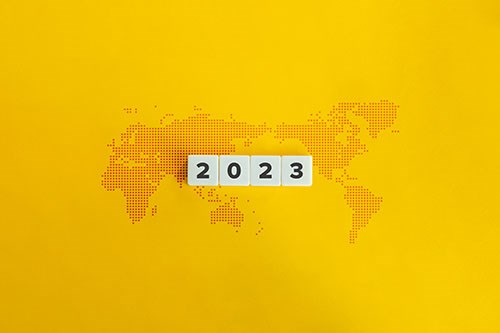 Real estate investors weathered another year in a post-pandemic world, with the year closing with yet another interest rate increase coupled with both uncertainty and heightened interest carrying into 2023. Just last Wednesday, the Federal Reserve raised its benchmark interest rate 0.50 percentage points, shifting the target range to 4.25% to 4.50%. The new level is the highest the fed funds rate has been since December 2007 and marks the seventh rate hike this year.
So what does this mean to investors, brokers, lenders, and others in the real estate world? Read a few perspectives below from stakeholders familiar with our BMD clients and the markets in which they do business.
Outlook on Financing
Even with increasing interest rates, maintaining perspective is key. "In my lifetime, these rates are not that bad," said Ken LaRoe, Founder, CEO, and Chairman of Climate First Bank, a full-service community bank offering personal and commercial banking services with a focus on environmental sustainability. He shared that younger people have only experienced the historically low rates and recalls when the prime rate was 17 percent when he was a young buyer buying his first properties.
Fast forward to present day. "From a macro perspective, everybody did very well," said Mr. LaRoe but adding that he and his banking peers did not see a slowdown until now at year-end in the Florida markets.
"I'm optimistic about 2023," he shares. However, his plans position the bank to handle a slowdown.
In launching Climate First Bank a few years ago, after leading two other community banks in Central Florida, Mr. LaRoe forecasts three and five years out. His bank's plans are to scale down 10% on loans and deposits. This translates into a $15 million reduction in loan products and $15 million in deposits. "I don't want my team to be pressured to produce," he said. Climate First Bank looks to maintain the quality of loans and service they provide.
Post-Covid Moves
Tania Vo, an individual investor in Winter Park, Florida, relocated from Sacramento, California, because of the significant contrast in real estate markets.  In July 2020, Ms. Vo sold her primary residence and two rental properties in California and uprooted to Florida because her prior home state was not landlord friendly.
"I moved at the outbreak of COVID," she said. "We had tenants stop paying rent and squatting." Ms. Vo repositioned her sales proceeds, via a 1031 exchange, into the purchase of a new primary residence and several rental properties in Florida.
Ms. Vo wants to continue investing in rental properties in Florida, but the increase in interest rates has given her pause. "Investors are saying, 'Pencils down,'" she said. "No one is buying because of inflation and interest rates." Although Vo's plans are on ice now, she doesn't want to wait indefinitely.
"We don't have a crystal ball, but I don't want to sit two years," said Ms. Vo. "My prediction is that the market in Florida will not crash. It will correct."
Ms. Vo would like to scale up from having two duplexes to buying commercial properties with 14 units or more. "Finding cashflow property is like a needle in a haystack. It's hard to find," she said. "If I find a cashflow property, I'm going to pull the trigger."
Opportunities for those Who Stay in the Game
Jason Jones, Sales and Operations Director for Miami-based Modern World Realty's Central Florida operations, has helped Ms. Vo and other investors buy and sell both residential and commercial properties and has experienced the market's wild swings.
In 2019, prior to COVID, interest rates were great even at 5.5% and 6%, and then dipping into 2% interest rates with COVID started a buying frenzy, Mr. Jones shared.
When a home listed, the first day there would be 10 offers above asking price. "That's not normal," he said. Then, when the interest rates started to hike this summer, there was a sense of urgency. "It was a seller's market in the summer," he said. "Now it's a buyer's market."
There's less competition for buyers now, allowing buyers and investors to offer less and seek buyer credits toward closing costs. Despite interest rates, it's a great time to be a buyer.
It's also a time of shifting mindsets for many in the real estate industry.
"We have to think about how we survive the shift," said Bobby Davidowitz, co-founder of the Alliance Group at EXP Realty, in Orlando, Florida. "Residential real estate is an emotional game," he said. "It's still a good opportunity for the hustlers."
However, he said there's going to be a thinning of the third. "The average investor has been in the market eight years and hasn't seen a downturn," he said. Some agents who are part time are not going to make it and won't renew their MLS, but it's an opportunity for those who stay in, he said.  Mr. Davidowtiz calls this next shift the "champion shift."
"This is where the champions will be made," he said. "Some people will run and hide. Some get out of the business, but it's also the time where the capital shifts."
Mr. Davidowitz has been repositioning himself by aligning with successful mentors and industry peers and keeping a pulse on the data. His outlook: "I'm mentally prepared, and I'm excited."
Tools of the Trade: Market Data to Individual Verification
Katie Nguyen, Account Executive with CoStar Group, a commercial real estate data and analytics company, based in Washington, D.C., estimates that 98% of brokers use CoStar in researching properties from one state to another, including submarkets representing specific areas within a city or region.
However, CoStar can also help individual investors locate properties more quickly and negotiate on their own. CoStar's ability to quickly provide highly detailed access to properties, including those recently sold and those not actively listed, could help individual owner investors negotiate to be more in line with recent sales and provide emerging market trends.
As an example, a CoStar summary for Orlando's multi-family market for 2022 showed strong renter demand from new residents and those priced out of the single-family market led to unprecedented growth in early 2022, with rent growth normalizing with vacancy hovering in single digits. However, the outlook is that affordable or workforce housing will be tight as many builders are having trouble finding land to develop.
Mr. Jones is also working with landowners and developers to help build and bring more homes into the market. He shares that you must be careful and shares the "buyer beware" warning in entering into transactions.
Mr. Jones advises working with other sale parties and the closing agent to ask for photo ID and verify ownership of the seller early in the closing process. He had a deal where the seller walked because they would not or could not produce verifiable identification and another deal where funds were wired to the wrong people. If he can't meet the other party in person, he will meet via video, including FaceTime. You need to know what you are buying and who you are buying from, he said.
To share your experiences or potential opportunities as we progress through 2023 regarding financing and investing in residential or commercial real estate, please contact BMD Attorney Christine M. Berk (407) 214-8395.
---