Brennan Manna Diamond Announces Firmwide Attorney Promotions
News Article
December 1, 2022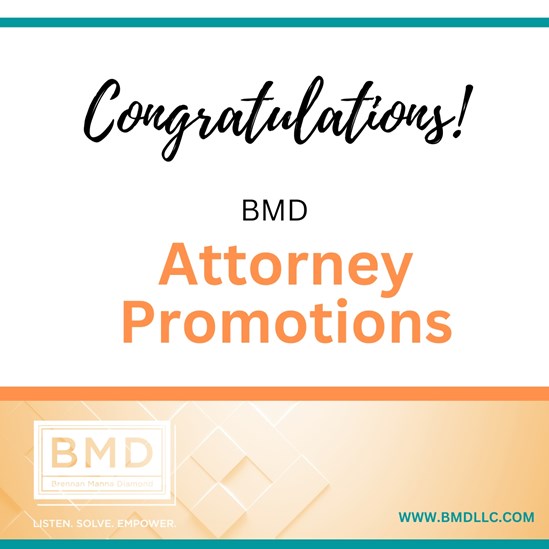 Brennan, Manna & Diamond is pleased to announce Attorney promotions throughout the firm.
Kathryn (Kate) Hickner has been named Cleveland Office Managing Partner. Kate is the first female attorney to hold the role of office managing partner for the firm. She is a highly respected healthcare attorney focused on transactional matters and compliance, related to federal and state healthcare regulations. Kate is licensed in Ohio, Michigan and New York. She has been recognized as a Crain's 2022 Notables in the Law and named The Best Lawyers in America© Health Care Law every year since 2019. She serves as a member of the board for the McGregor Foundation and the Case Western Reserve University Inamori International Center for Ethics and Excellence.
The following attorneys were promoted to Member of the firm, effective December 1:
Randal Fairbanks is based in BMD's Jacksonville, Florida office. He has over 30 years of experience in taxation, estate planning, asset protection, business law and real estate. Randy represents physicians, business owners and other high-net worth individuals in business and tax-related matters, estate planning, trust and foundations, limited partnerships and limited liability companies. He also represents medical practices and other businesses in choice-of-entity planning, formation, M&A, separations, contracts, employment and shareholder agreements, guidance with respect to all manner of commercial real estate matters and the formation of joint ventures. Randy is a member of the Jacksonville Bar Association.
Donna Flammang is based in BMD's Bonita Springs, Florida office. She focuses her practice on business and corporate services, estate planning and employment law. Donna is the former vice president, general counsel and secretary of an NYSE, Fortune 1000 international manufacturing company in Ohio. Her practice includes advising clients on domestic and international corporate issues, mergers and acquisitions, securities law and corporate governance matters, antitrust issues, intellectual property matters, employment law issues, real estate matters, loans and other financing arrangements, and estate planning. Donna is a member of the Florida, Ohio, Pennsylvania and Collier County Bar Associations. She has been recognized as a Best Lawyer in America for Real Estate Law from 2021-2023 and is AV-rated from Martindale-Hubbell.
Kyle Johnson is based in BMD's Akron and Canton Offices. He a trial lawyer focused in the areas of intellectual property, commercial, construction, and appellate litigation. Kyle has represented clients in state and federal court in matters involving commercial disputes, tort claims, the defense of class-action claims, and prosecuting and defending emergency motions for injunctive relief. Kyle was recognized as an Ohio Super Lawyer's Rising Star in 2020 and 2021. He is a member of the Ohio State and Stark County Bar Associations, the Association for Corporate Growth (ACG), the Ohio Contractors Association, Construction Employers Association, Builders Exchange of East Central Ohio, Building Industry Association of Stark County, Surety Association of Ohio and serves on the Board of Directors for Pathway Caring for Children.
Christopher (CJ) Meager is based in BMD's Akron and Canton Offices. He counsels clients in the areas of corporate, business, real estate, government and public law, and civil litigation matters. CJ has experience in real estate, business and other asset transactions as well as various business and corporate matters, such as entity formation, organization, restructuring and emerging business issues. With respect to government and public law, CJ represents clients' interests in front of various state, county, municipal, township and village councils, trustees, boards and commissions. He was recognized by Ohio Super Lawyers as a 2020 and 2021 Rising Star and is a member of the Akron, American and Ohio State Bar Associations. CJ is a City Council Member for the city of Green and is the Co-Founder and President of the Green Professionals Association. He is a Board Member and serves on the Grants Committee for the Akron Bar Foundation. He is also a Board Member for the Healthy Green Race Series.
Additionally, the following attorneys were promoted to Partner, effective December 1:
Elizabeth Shively Boatwright is based in the Akron office and is a member of the firm's Litigation and Business practice groups. Her practice includes representing clients in a range of business litigation, corporate advocacy, and commercial matters in both state and federal courts, including contract disputes, employment matters, and class action and multi-district litigation. Elizabeth is a member of the Akron Bar Association.
Mathew Doney is based in the Cleveland office and is a commercial litigator focused on the area construction law and has first-chair experience in all stages of litigation. Matt litigates disputes in state and federal court, and arbitration forums, including the American Arbitration Association and FINRA, and manages related appeals. Matt also counsels clients through the negotiation of disputes, including mediation procedures. He is a member of the Akron, Cleveland and Ohio State Bar Associations. Matt serves as the Membership Chair of Akron Torchbearers and is a Member of the Board and Governance Committee Chair for Alliance Family Health Center. He was named as a Super Lawyers Rising Star in 2022 and to The Best Lawyers in America "Ones to Watch" from 2021-2023.
Alicia Kupcinskas is based in the Jacksonville, Florida office. Her practice includes commercial litigation related to real estate and real property, banking, business, and various contractual disputes. Alicia has experience in probate actions and creditor's rights, including Chapters 7, 11 and 13 bankruptcies. She has practiced law since 2015, appearing in both federal and state court. Alicia takes pleasure in working with small and local business clients in the Jacksonville community.
Cassandra Manna is based in the Cleveland office. Her practice is focused on estate planning and wealth management, working with family-run business teams to grow and strengthen companies as they prepare for leadership transitions from one generation to the next. Cassandra has experience helping companies acquire or sell businesses, manage corporate governance, form and organize affiliated entities, and negotiate and draft commercial leases. She is a member of the Estate Planning Council of Cleveland, Cleveland's Women in Finance (WiF) networking group and serves on the boards of the St. Vincent Church Foundation and the St. Vincent-St. Mary High School Foundation. Cassandra is a Guardian for Honor Flight Cleveland and is a Director of the Cleveland Bocce Club. She was named to The Best Lawyers in America: Ones to Watch - Trusts and Estates (2023).
Ashley Watson is based in the Columbus office. As a healthcare attorney, Ashley works with nonprofit and for-profit healthcare providers, healthcare trade associations, individuals and businesses. She is experienced in healthcare public policy and regulatory compliance, legislative and government affairs, grant administration, and healthcare program operations. Ashley is a member of the Ohio State and Columbus Bar Association. She serves on the Women Lawyers of Franklin County Board and the KINETIC: Emerging Leaders Board (COSI Columbus). Ashley was named to The Best Lawyers in America: Ones to Watch - Health Care Law (2022-2023).
BMD is pleased to note that Nathan Altstadt, Morgan Carr, Jillian Chapman, Jacob Davis, Kelly Jena and Rachel Stermer have joined the firm as new attorneys, after recently passing respective Ohio and Florida bar exams this fall.