Brennan Manna Diamond Congratulates 2022 Crain's Cleveland Notables in Law
News Article
February 28, 2022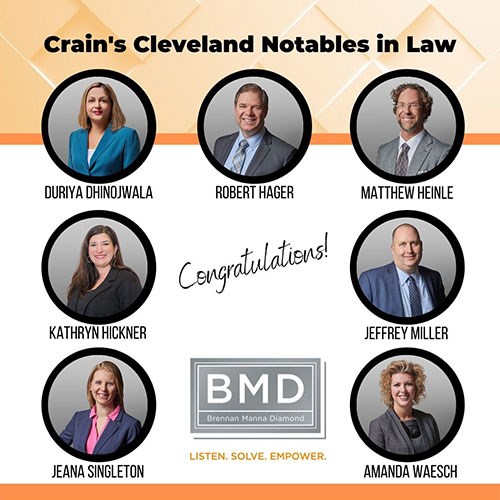 (CLEVELAND, OH) — BRENNAN, MANNA & DIAMOND is proud to announce seven attorneys have been selected to Notables in Law by Crain's Cleveland. Crain's has designated attorneys Duriya Dhinojwala, Robert Hager, Matthew Heinle, Kathryn Hickner, Jeffrey Miller, Jeana Singleton and Amanda Waesch as notable.
Honorees of the Crain's Cleveland Business 2022 Notables in Law are recognized as senior-level professionals who stand out in the field of law and have practiced at least 10 years. The selected individuals have shown the ability to affect change in their roles or practice areas. They serve as role models and have assumed leadership positions in professional or civic organizations.
About Brennan, Manna & Diamond
Brennan, Manna & Diamond ("BMD") was founded in 2000 with the goal of combining highly skilled, business-savvy attorneys to create a new way to provide legal and business services to its clients. BMD's access to a network of successful entrepreneurs, consultants and developers allows for innovative solutions, symbiotic partnerships and sound legal and business advice. This methodology supports our commitment to Listen to, Solve for and Empower clients.
With more than 75 attorneys in eight offices – BMD serves clients of all types and sizes in numerous industry sectors nationwide, including the areas of Banking and Finance, Business and Corporate, Cannabis, Construction, Cybersecurity and Privacy, E-Discovery, Employment & Labor, Family Wealth Management, Government Affairs, Healthcare, Immigration, Intellectual Property, International, Litigation, Mergers & Acquisitions, Real Estate, Start-Up/Ventures, Tax, Estate Planning and Asset Protection, and more. For additional information, please visit www.bmdllc.com.
---